Commercial Metal Awnings
Use solid awnings as an entrance cover, walkway cover, or a fixed sunshade over windows to improve energy efficiency and occupant comfort. These versatile awnings are easily combined with our Louvered Sunshades, adding a distinctive appeal to any building.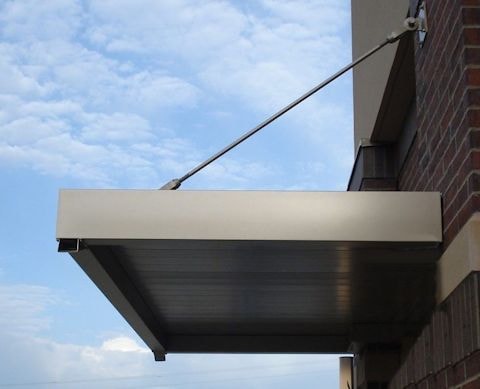 Awning Design
The objective of a solid awning is to block direct sunshine and weather from occupants as they enter or exit your building. In addition, awnings may also serve as a sunshade over windows to block direct sunlight from entering your living space. The most effective means of achieving this can be viewed in our How Sunshades Work section.
The use of awnings should provide the desired functionality while providing an attractive architectural element to your building. Utilize them over windows and doors, or combine them with our sunshade louvers, to achieve your desired aesthetic.
A variety of finishes are available from our Awning Finishes selection chart. Awnings can be painted with a baked enamel or Kynar 500 finish, or have an anodized finish applied. A variety of standard colors are available. Custom colors can be selected by sending us a color chip. We will use our computer match system to precisely match other building facade components.
Metal Awnings are commonly specified in project documents under these divisions:
10 7313 Awnings (sometimes listed as 10 73 13, 107313)

Price Comparison
The metal awning prices vary by model and options. We have included a comparison of prices to assist in product selection (see chart below).
Select the metal awning by price:
| | | |
| --- | --- | --- |
| Product Model | Option | Price Compare* |
| H8CV | Single Sided | Least Expensive |
| H8CV | Double Sided | 25% Increase |
*Price values for awnings are for comparison purposes only. Actual quotation prices may vary depending on the sizes required and the options selected.
Installation
Installation for Architectural Louvers' awnings is simple. Each awning is equipped with outriggers for mounting to the building structural framing with mounting brackets (provided). Applicatons with larger awnings may require rigging support, which will be provided with your order.